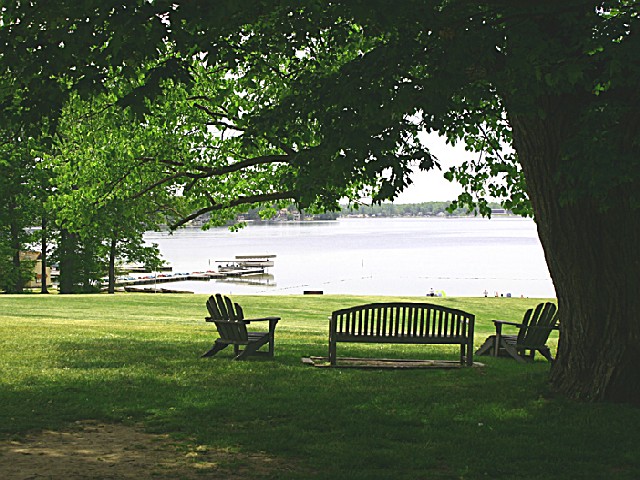 I took her picture but I won't post it here because I don't remember her name. She's African-American, on the tall side, with a smile that lit up the whole corridor of the Potawatomi Inn at Pokagon when my friend Nan and I went to spend a couple of days writing. She was with a group of people going to spend the day at Mackinac Island. She walked with a quad cane. Very fast. She smiled at everyone she met, laughed and talked and twinkled. We told her she was everywhere and it was no wonder no one could keep up with her. The fourth or fifth time, she hugged us and kissed us and when she walked away we were a little silent and a lot moved.
She'd been a concert violinist, said the man who led their group, and a registered nurse. My first thought was, Oh, how much she lost. My second, as she walked away down the long hall, was, Oh, how much the rest of us gained.
The woman had a long blond braid and a medical walking boot. She walked past where we were working, barely limping. Behind her came a teenager wearing a boot. "We just saw one of those on someone else," we said.
"That was my aunt," she said. "We both have a broken foot. My mom has one, too, but she doesn't have a boot anymore. We're just a clumsy family."
We ordered eggs for breakfast. I asked for over easy. Nan asked for poached. I said, Oh, I want poached, too. Can I change that? The waitress narrowed her eyes at me and said, "I only do so much Monday," and started laughing. The eggs were perfect.
Lots of restaurants up here close on Mondays, but we found one that looked way interesting, took a couple of exits and missed a turn getting there, but pulled into the parking lot right in the middle of its lunchtime hours. A car pulled out. We could see someone walking around in the rustic log structure that housed the restaurant. Didn't matter what we saw--it was still closed.
We decided today we'd work outside. It took us several minutes to get settled at the table in the inn's courtyard. Got the umbrella at just the right angle. Settled into the wooden chairs, coaxed the computer mice into working on the slatted table, and went to work. And then it thundered. We beat the rain inside.
Yesterday, we went to visit Gene Stratton-Porter's home near Rome City. It was beautiful and seeing it brought back warm memories of reading her books. On the bottom shelf of a glass-fronted case lay Tom Mix's chaps. "You won't know who he was," said the guide. Oh, my gosh, I said, his stagecoach is in the museum in the county seat where I live.
The world shrank to a three-way conversation in a lovely old house. "Miami County? I've been there. They've got somebody's piano there, too. Cole Porter!"
It was a short trip, although we got a lot done and saw some things we'd never seen. It doesn't take long to gain experiences, to feel sweet and gentle things, to be grateful, to find the comfort of a small world. It will be good to get home today—it's always good to get home—but the gifts of being "away" are countless.